Membership is a MobiRoller feature that requires users to register first to be able to log in to your application. User registration is very valuable for your communication with your users. With the Role and Group management feature, you can send special instant notifications to your registered users.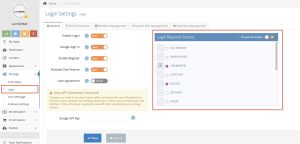 You can access the membership screen by clicking the Manage>Login button on the left side of your panel.
Membership Feature: You can activate the membership screen in your application with this button.
Google Login: When you enable this feature, the Google Login option will also be available among the login options in your application. Your users will be able to log in to your application with their Google accounts.
Anyone can log in: When you enable this feature, the Register button will be active in your application and your users can activate themselves. If you turn off the feature, the Register button will not be visible in the application.
User Agreement: You should enter the link to the User Agreement you prepared for your users in this field. You can create it in places like Google Drive and use the sharing link.
Membership Required Screens: With the screen (module) selections you make here, you can make some or all of the screens exclusive to your member users. You can use the Select All Screens button to select all screens.
You need to press the save button for the changes you made to take active.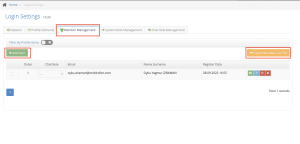 Membership Management: You can add members to your application from this section, and after removing the "Anyone can join" option, you can also manually add members from here. You can also use the "Export Members as CSV" button to get the members' information as an Excel file.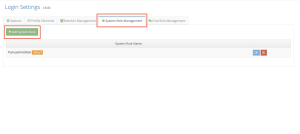 System Role Management: You need to enter the roles you want to give in your application from this section.

Chat Role Management: If you are using the Chat Module in your application, you should use this step to determine the roles in the module.
If you have completed all the steps and still think you are getting an error, you can contact us at support@mobiroller.com.