After you generate your own APK to your Android device and install it, from now on you send Push Notification.
What is Push Notification?
Instant notifications are messages you can send to users who have installed your mobile app.
 When you send an Push Notification, this message is delivered to your users as long as they have internet connections or as soon as they activate their internet connections. 
In addition, you can direct your users to a screen you want with the instant notification and you can show a screen you want them to see at that moment. This allows you to deliver your events, campaigns, breaking news, or any other contents directly to your users.
Furthermore, you can send messages specific to your users if your application supports multiple languages.
How do I send a Push Notification?
In order to send an instant notification, click on the Push Notification tab in the left menu of your panel.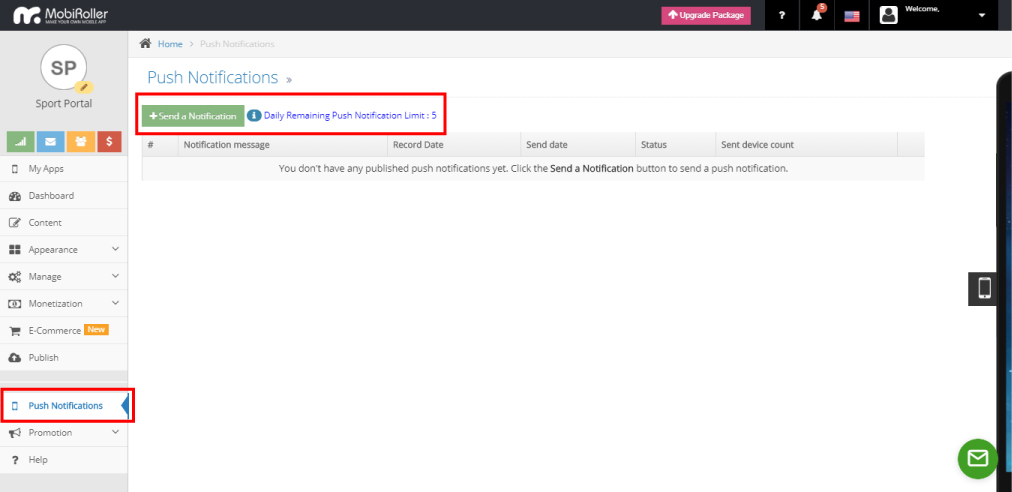 On the screen you see, you can switch to the notification screen by pressing the Send Push Notification button. Moreover, the section beside the button, it will show you the number of rights you have for sending daily notifications if you are a free package user.
After that, you can then see all the notifications you have sent on this screen collectively.
When you click Send Push Notification button,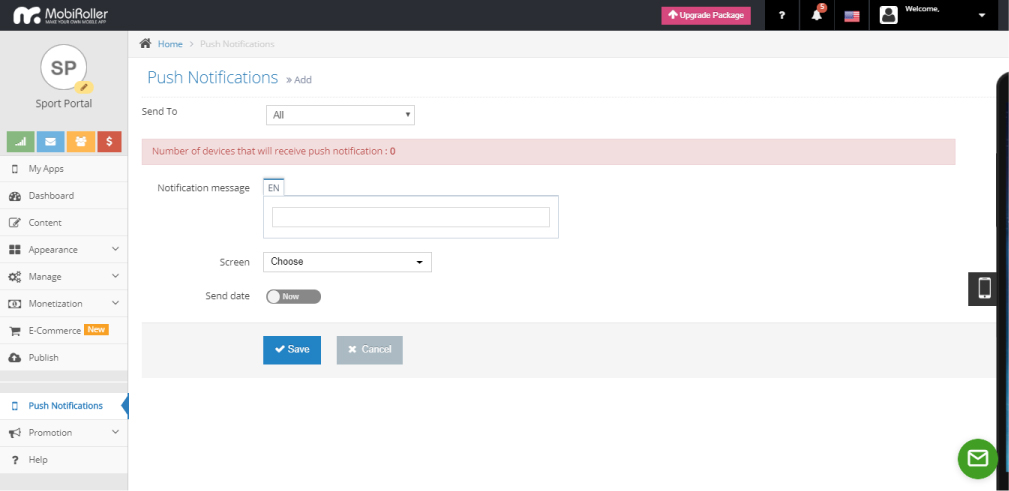 If the appearing on the screen is the Number of Devices to Send Push Notification: 0 your application is not installed on any device. Therefore, your notification will be wasted.
After installing your application to at least one device, the background of the Number of Devices to Send an Instant Notification Message will be green. This number will increase as your application is installed on a new device, but it will not decrease when deleting from an installed device.
Send to: You can use this screen to send the messages you send to your members, non-members, or a group you create.
Notification Message: You must write the message you want to send to your users in this field. If a second language option is active, you must enter text into both fields in your application.
Screen:  In this section, you need to choose which screen you want the instant notification to be directed to your users. Selecting a screen to be directed is not a mandatory choice.
Send date: You can set your date and time immediately or send your instant notifications at a later date.
Important: You can deliver your instant notification to your users at the right time by choosing the time zone when determining the time to send your instant notifications. (Turkey is GMT + 3-time zone)
After filling in the required information on this screen, click the Save button.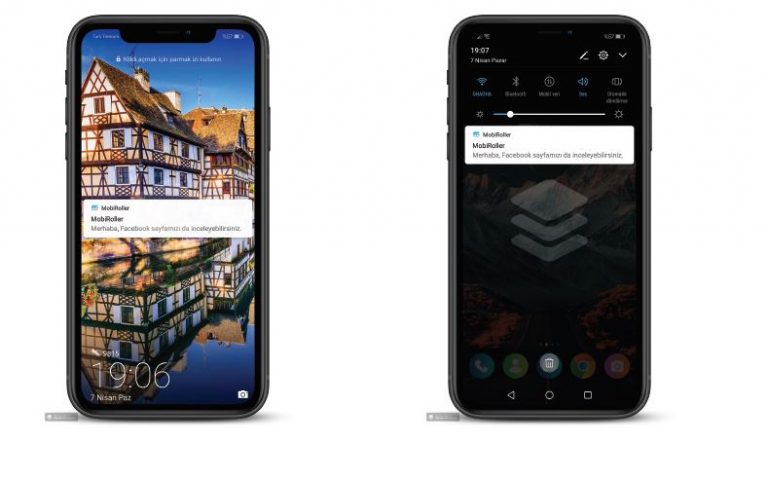 In this way, the Push Notification that you send reaches your device. When you click on the displayed Push Notification, you can log in to your application and you will be directed to the screen if there is a screen directed by review button.
Now that you've completed the Push Notification step, you can upload your app to markets by reviewing Step 7: Publish your app on markets.